Full Stack Web developer
INTRODUCTION
Watch my video-introduction: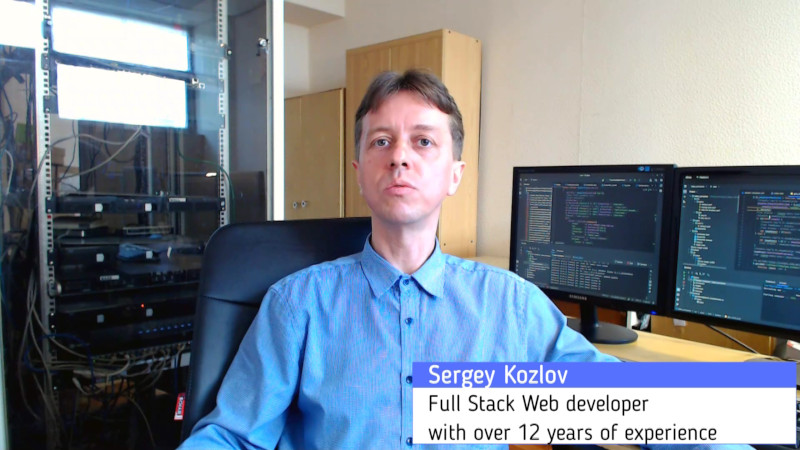 Hello my name is Sergei Kozlov. I am a Full Stack Web developer, with over 12 years of computer programming experience.
I created my own project Vide.me alone, which consists of 1,000,000 lines of code written by me personally.
In my current role as a Full Stack Web developer at Vide.me, I have been able to successfully overcome challenges such as:
Third-party Frameworks showed low efficiency, insufficient for the hardware we used, so I wrote my own Framework, which turned out to be 10% more efficient than others.
There was no ready-made solution in the world for pipeline processing and uploading video to CDN, and I created my own solution that performs all my tasks.
Using off-the-shelf cluster solutions (Kubernetes) is expensive and to save money I have set up Docker Swarm failover clusters in the US and Europe, saving myself over $2200 a year.
In the past, my publicists created content and left forever, so in order to keep them, I created a service that collects geo-data of page visits and turns them into beautiful geo-charts, emails them to authors. This way I retain users 20% more effectively.
I am up to date on all implementations of PHP, JavaScript and Shell programming languages. I have rich experience in using Docker, SQL, DNS, CDN and cloud technologies.
Programming is my passion.
I love complex tasks, because for me it is an opportunity to gain new knowledge and new experience. I use creative solutions to solve every problem. Also in my work I use perseverance. In my practice, there were tasks about which they write on the Internet that there are no solutions to these problems. But I never backed down. I was looking for a solution for 2-3 weeks for 8-10 hours a day. And at the end of a difficult journey, I always find a solution.
SUMMARY
Full Stack Web developer with 12+ years of professional experience. Skilled with PHP, JavaScript, and SQL and demonstrates a strong ability to create and develop complex media projects.
RELEVANT CAREER OBJECTIVE
PHP developer / Software Engineer
PROFESSIONAL EXPERIENCE
Full Stack Web developer at Vide.me 06/2011-present
Developed my own framework with over 200 API, which became ~10% more efficient than Symphony / Laravel.
Implemented my own system for encoding videos and uploading them to CDN.
All applications have been migrated to their own Docker Swarm clusters in Amazon AWS USA and Europe. This increased fault tolerance and reduced the deployment time for CI/CD processes.
Implemented a full-text search system in user publications.
A system for fixing and analytics of geo-data of users has been implemented. This allowed to show ranked content to users. And also build geo-charts of views for publicists.
Deployed its own system for sending email messages to users. This made it possible to retain customers 20% more efficiently.
System Administrator at Teploenergoremont 12/2000-present
PROGRAMMER SKILLS
PHP framework: PHPUnit, phpmailer, league/oauth2, google/apiclient, aws/aws-sdk-php, predis, php-ffmpeg, php-image-resize, video-thumbnail-sprite, geoip2.
JavaScript framework: JQuery, videojs, chartjs, bootstrap, pgwbrowser, moment, cropperjs, jssocials, image-picker.
requireJS
Bootstrap
Linux shell scripting
DEVELOPER SKILLS
HTML / CSS
Ubuntu / Windows Server
Docker (Swarm / Compose / Maintenance / Life Cycle of Containers / Data Management)
SQL PostgreSQL MySQL MS SQL (Full Text Search / Replication / Backup)
NoSQL (Redis / DynamoDB / Couchbase)
CDN AWS / Cloudflare
Let's Encrypt
Virtualization (KVM / LXC / Proxmox / VirtualBox)
IDEs PhpStorm / IntelliJ IDEA / Visual Studio
Servers administration
PHPUnit
Video Converting / Encoding
Linux bash / shell
Cloud AWS / Rackspace
Web servers Nginx / Apache
JSON / YAML / XML
Git (GitHub / GitLab)
SOFT SKILLS
I have the ability to learn and teach.
I like to patiently solve complex problems using creativity.
Responsible, Accountability, Honesty, Open-Mindedness.
I can work in a team.
EDUCATION
Associate's degree in Computer Sciences
College of Electronics, Ryazan
Graduated in 2006 (diploma with distinction)
Specialization: computer and network technician
LANGUAGE SKILLS
English – (В1)
Czech – (В1)
Russian – (C2)
VOLUNTEER EXPERIENCE
Over the past 3 years, trained as mentor 6 students as programmers for various industries. All students have success completed studies and got a diploma.
Given the time difference, please let me know the time of your call. It is preferable to use to contact me:
Skype: sergeykozlov.ru
Whatsapp: +79109087360
email: hello@sergeykozlov.ru
Smiryagina street, Novomichurinsk, Ryazan, Russia